In various industrial synthesis diamonds, basically suggest about abrasive grain of mesh size (#60-#500) for wheel here. These are almost distinguished metal type and resin type for application of bond. And, we have coarse diamond size than #60 for as cutting processing of concrete and stone.
レジン系 合成ダイヤモンド
synthetic diamond for resin bond system
This industrial synthesis diamond was developed for resin bond. It has some features that add to surface area and irregular form to prevent omission from resin bond. And, the diamond has friable for self-blade and, the basic color is black. There are various resin diamonds line-up to resolve many of the requests.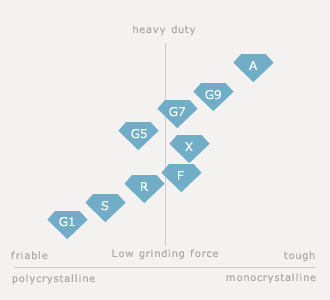 FRD-G1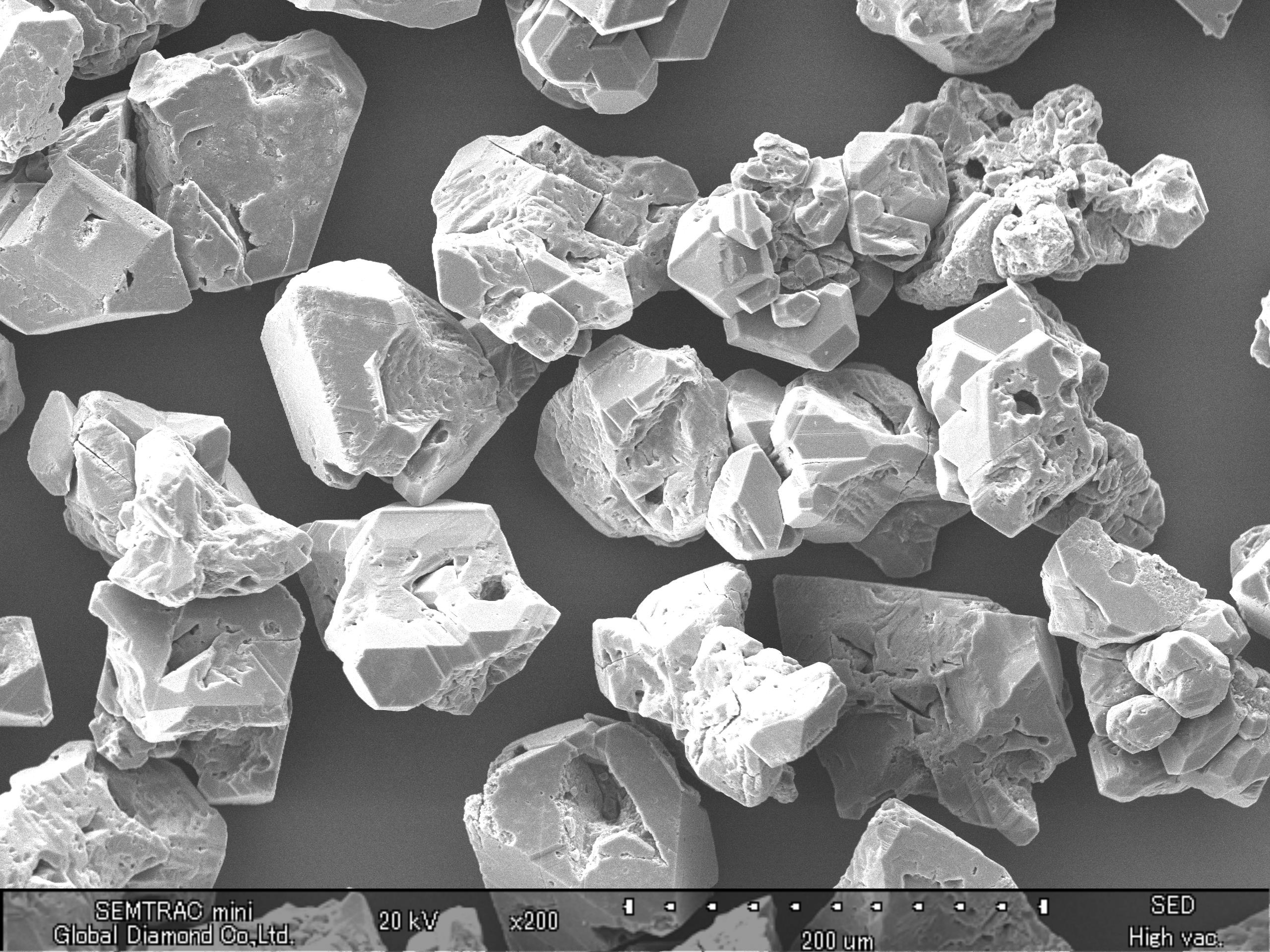 very low grinding forces, excellent surface finish, long life and good surface geometry
FRD-S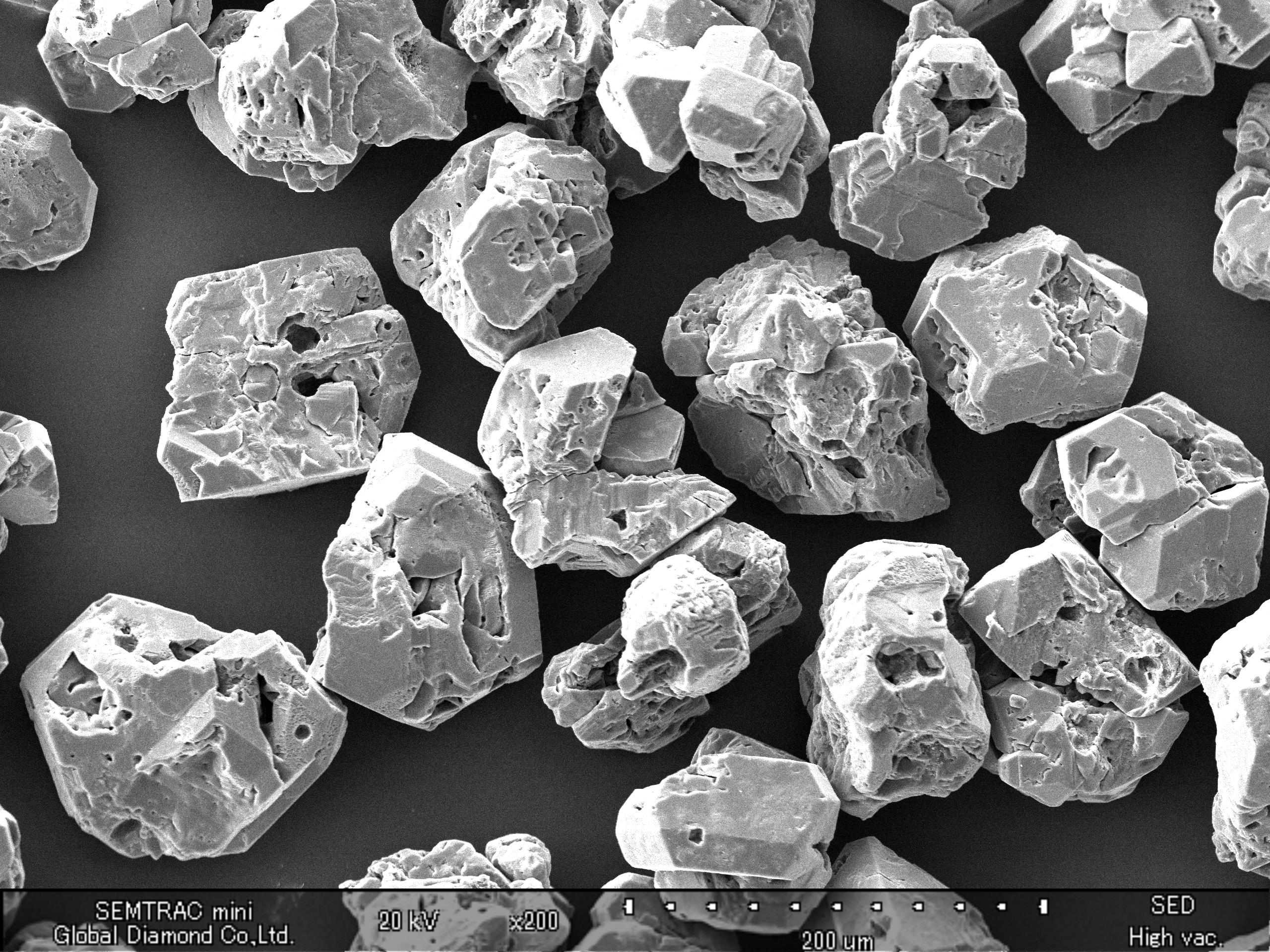 low grinding forces and excellent surface finish
FRD-R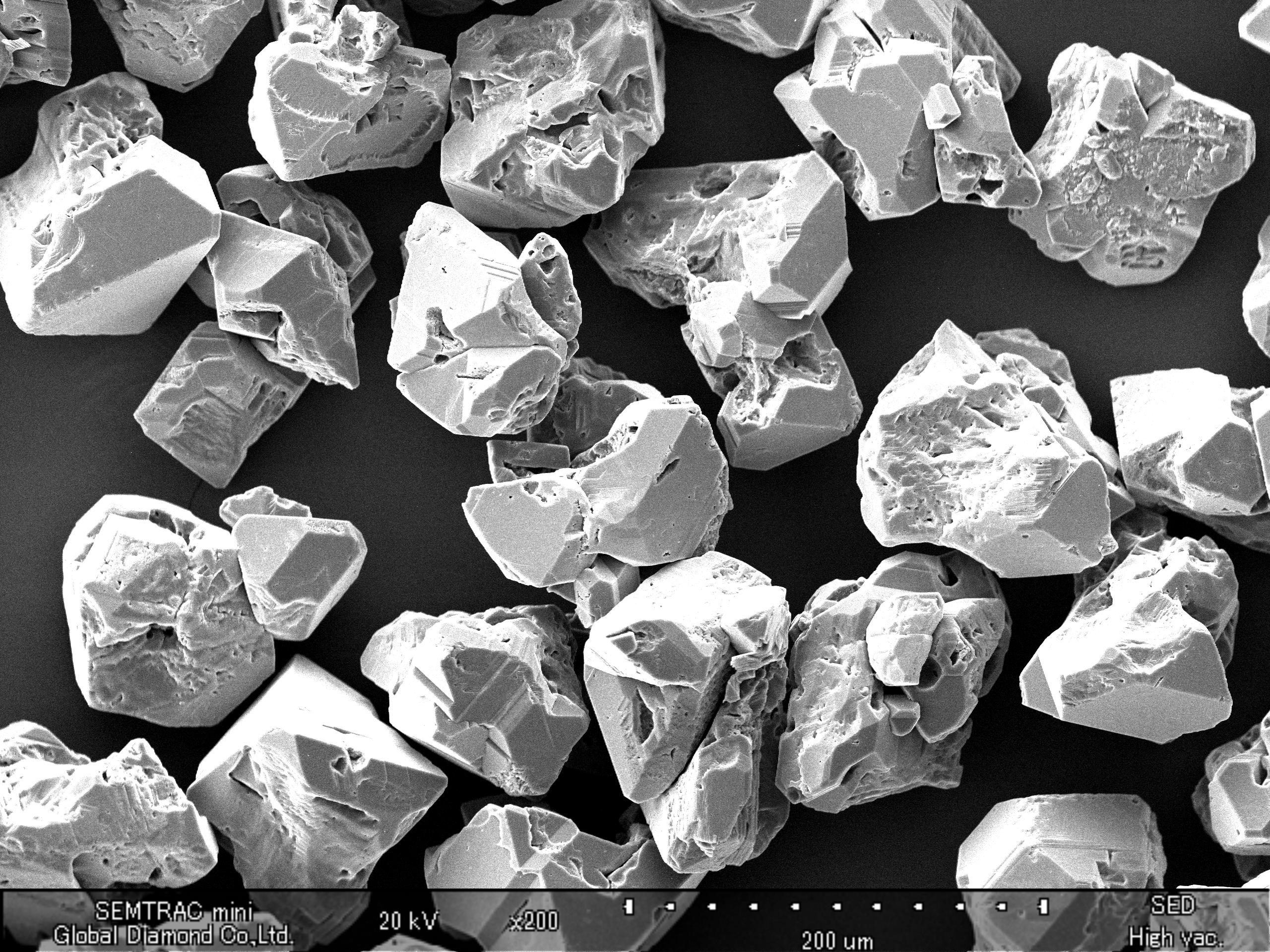 excellent cost/performance ratio
FRD-F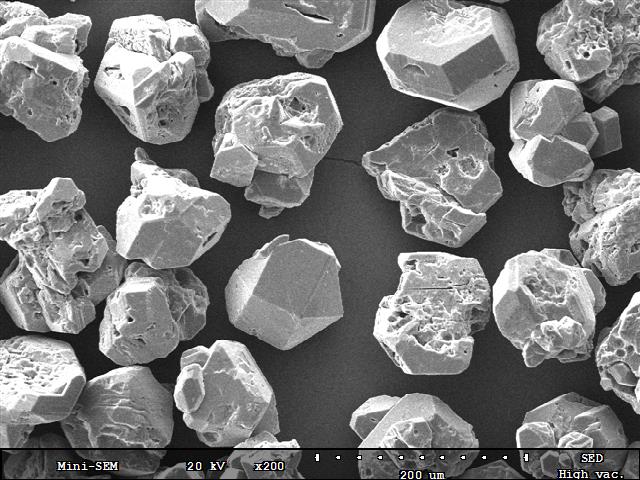 Friable economic grade
FRD-G5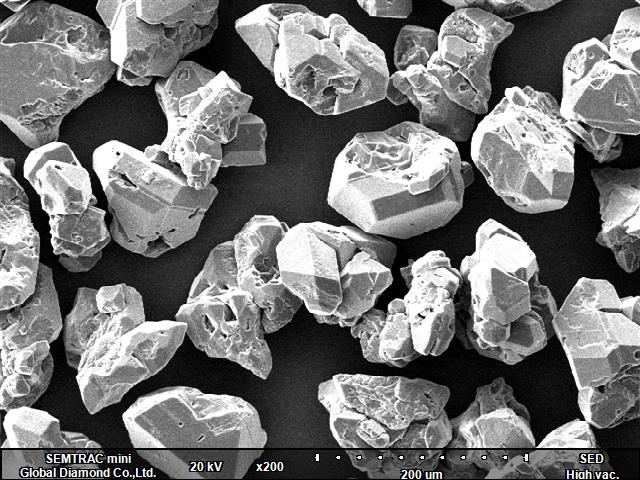 Premium grade with angular grain and unique crystal characteristics
FRD-X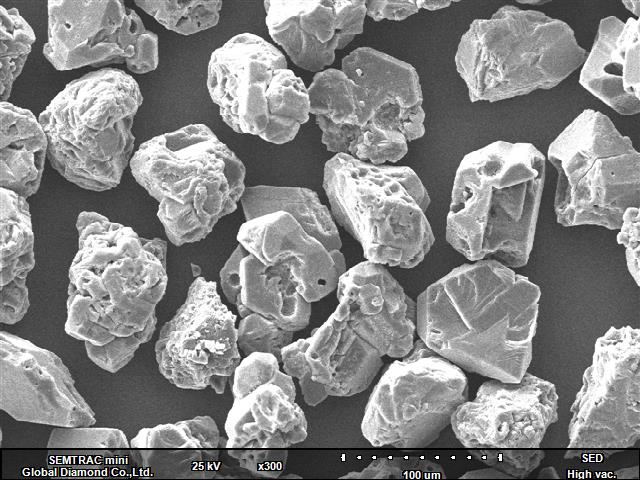 premium grit with very wide application spectrum
FRD-G7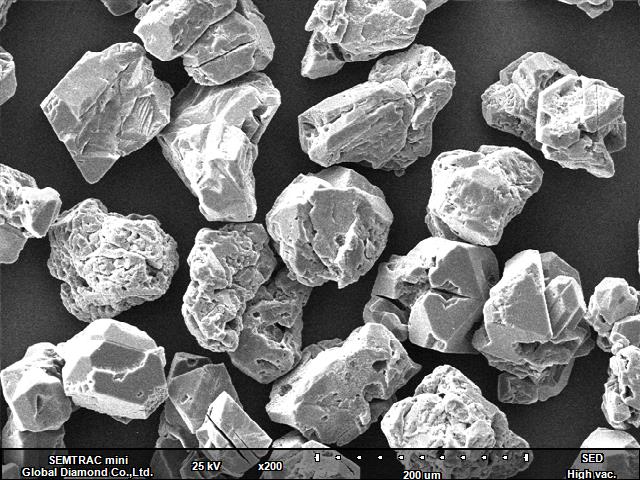 premium grit with angular grain shape and little higher toughness than G5. Specially designed for new hybrid bond system.
FRD-G9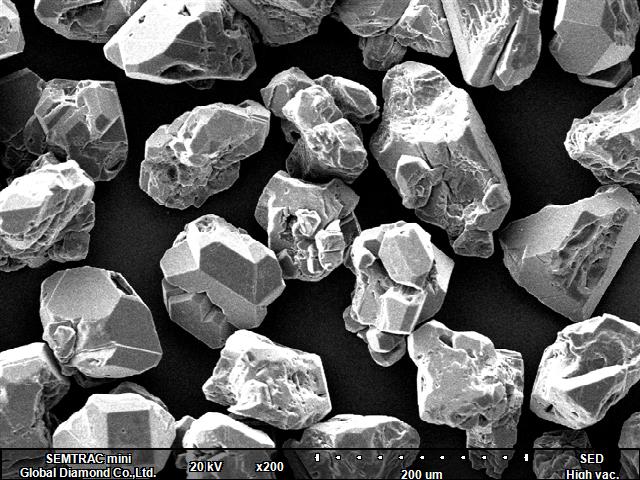 tough grit with microfracture properties
FRD-A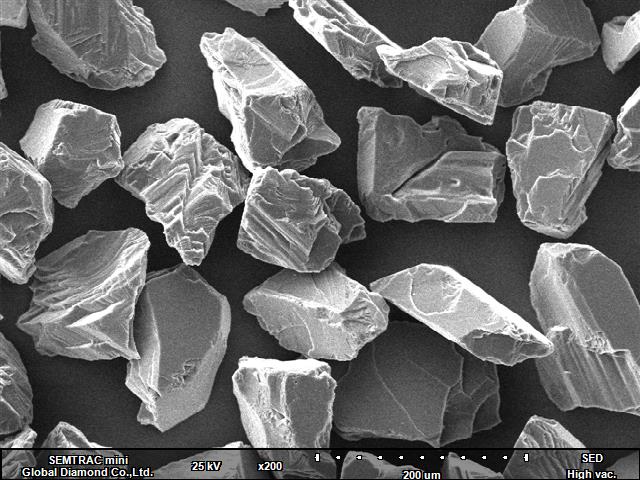 heavy duty grit with very sharp and monocrystalline particles
メタル系 合成ダイヤモンド
synthetic diamond for metal bond system
Metal diamond generally is abrasive grain except for resin bond. It's blocky form than resin diamond and the basic color is yellow. It's the more blocked and less impurity in the diamond, the more tough and heat resistance. There are various resin diamonds line-up to resolve many of the requests.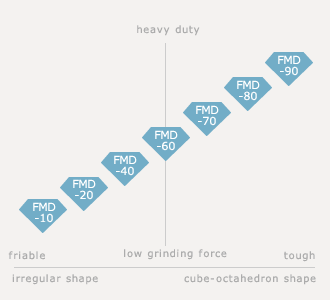 FMD-10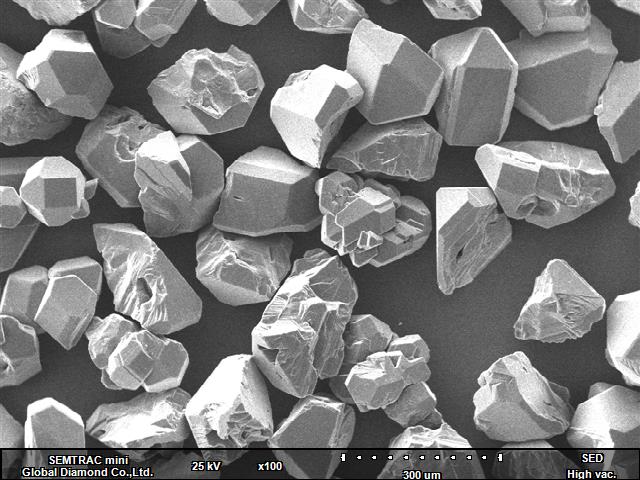 excellent price/performance ratio
FMD-20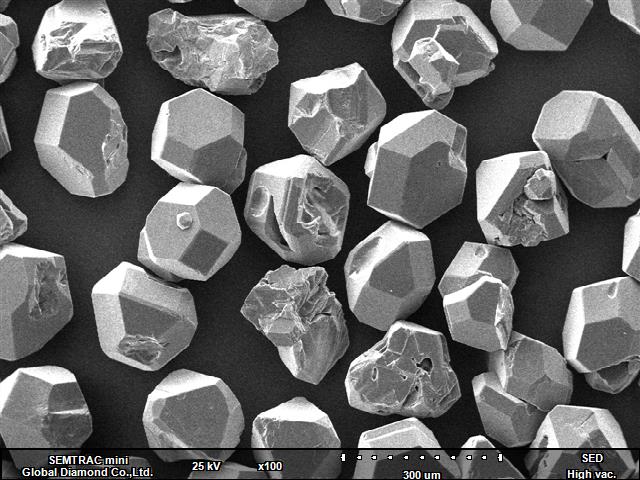 low cutting force
FMD-40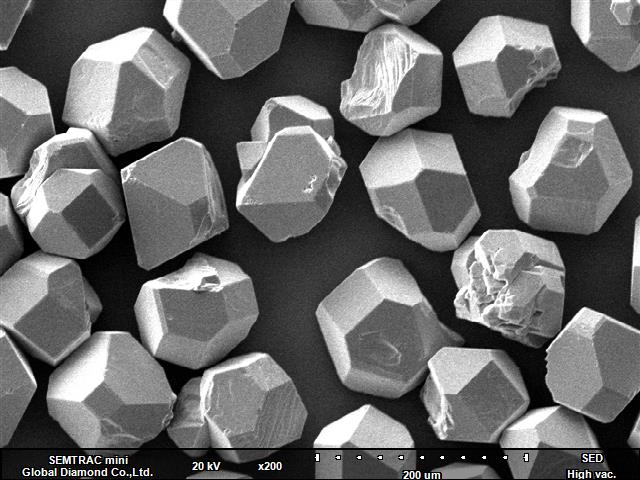 wide spectrum of applications and bonding systems
FMD-60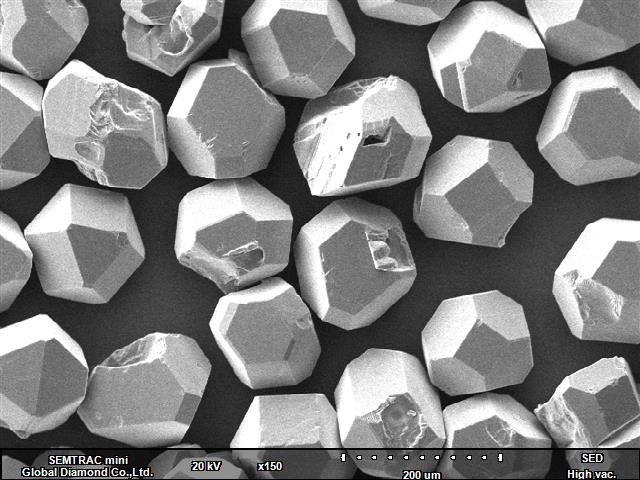 best compromise between material removal rate and tool life
FMD-70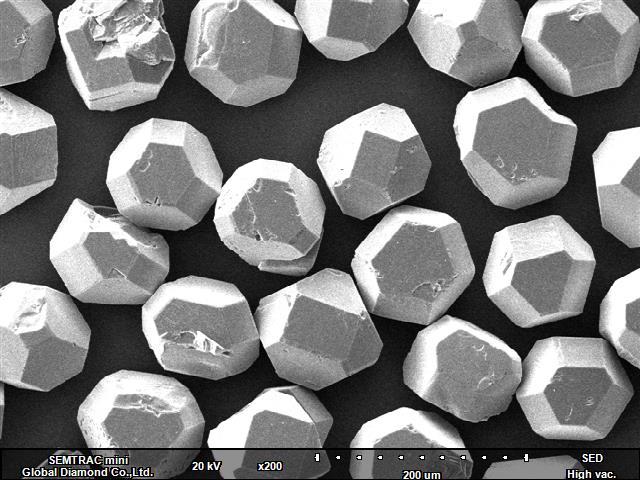 high performance and tool life
FMD-80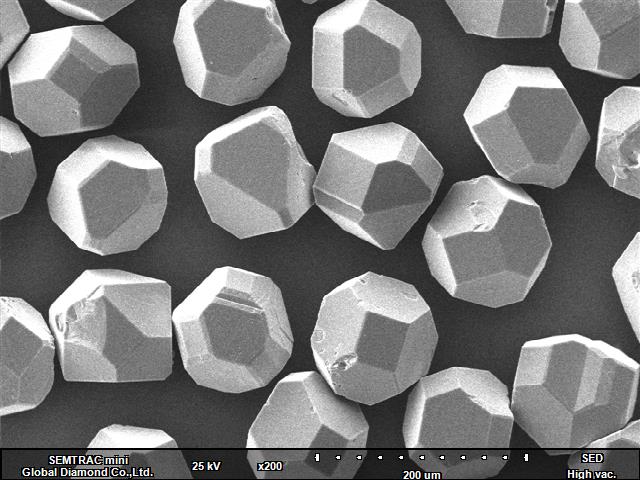 higher precision in heavy duty applications
各種コーティング
coating for synthetic diamond
Surface-metal coating is provided to add to high bonding power with base metal and high heat resistance.
N30・・・30%Nickel Coating
N56・・・56%Nickel Coating(Smooth Form)
NS60・・・60%Nickel Coating(Spiky Form)
C50・・・50%Copper Coating
T2・・・Titanium Coating
TN60・・・Titanium Nickel Coating
FMD-F N56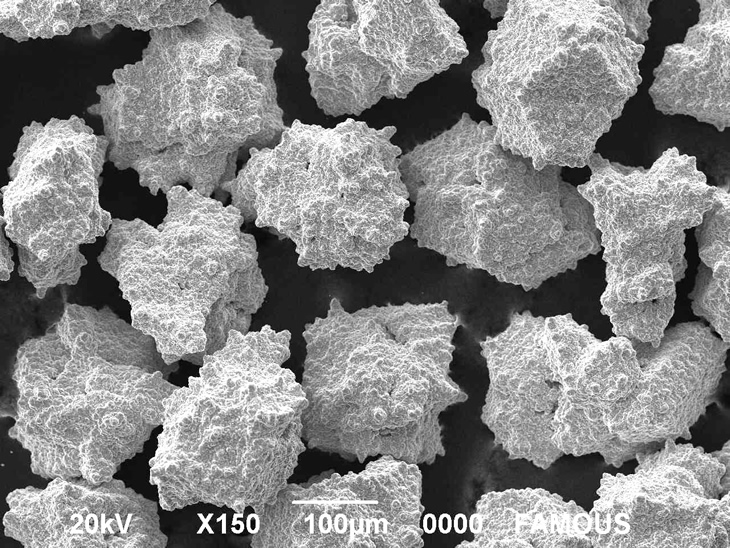 供給サイズ
size availability for synthetic diamond
synthetic diamond for Resin bond
 
60/80
80/100
100/120
120/140
140/170
170/200
200/230
230/270
270/325
325/400
400/500
FRD-G1
△
〇
〇
〇
〇
〇
〇
〇
〇
〇
〇
Coat
N30
△
〇
〇
〇
〇
〇
〇
〇
〇
〇
〇
N56
△
〇
〇
〇
〇
〇
〇
〇
〇
〇
〇
C50
△
〇
〇
〇
〇
〇
〇
〇
〇
〇
〇
 
60/80
80/100
100/120
120/140
140/170
170/200
200/230
230/270
270/325
325/400
400/500
FRD-G5
〇
〇
〇
〇
〇
〇
〇
〇
〇
〇
〇
FRD-X
〇
〇
〇
〇
〇
〇
〇
〇
〇
〇
〇
Coat
N30
〇
〇
〇
〇
〇
〇
〇
〇
〇
〇
〇
N56
〇
〇
〇
〇
〇
〇
〇
〇
〇
〇
〇
NS60
〇
〇
〇
〇
〇
〇
〇
〇
〇
〇
〇
C50
〇
〇
〇
〇
〇
〇
〇
〇
〇
〇
〇
 
60/80
80/100
100/120
120/140
140/170
170/200
200/230
230/270
270/325
325/400
400/500
FRD-G7
〇
〇
〇
〇
〇
〇
〇
〇
〇
〇
〇
FRD-A
〇
〇
〇
〇
〇
〇
〇
〇
〇
〇
〇
Coat
N30
〇
〇
〇
〇
〇
〇
〇
〇
〇
〇
〇
N56
〇
〇
〇
〇
〇
〇
〇
〇
〇
〇
〇
NS60
〇
〇
〇
〇
〇
〇
〇
〇
〇
〇
〇
 
60/80
80/100
100/120
120/140
140/170
170/200
200/230
230/270
270/325
325/400
400/500
FRD-G9
〇
〇
〇
〇
〇
〇
〇
〇
〇
〇
〇
Coat
N56
〇
〇
〇
〇
〇
〇
〇
〇
〇
〇
〇
NS60
〇
〇
〇
〇
〇
〇
〇
〇
〇
〇
〇
 
60/80
80/100
100/120
120/140
140/170
170/200
200/230
230/270
270/325
325/400
400/500
FRD-R
〇
〇
〇
〇
〇
〇
〇
〇
〇
〇
〇
Coat
N30
〇
〇
〇
〇
〇
〇
〇
〇
〇
〇
〇
N56
〇
〇
〇
〇
〇
〇
〇
〇
〇
〇
〇
C50
〇
〇
〇
〇
〇
〇
〇
〇
〇
〇
〇
 
60/80
80/100
100/120
120/140
140/170
170/200
200/230
230/270
270/325
325/400
400/500
FRD-F
〇
〇
〇
〇
〇
〇
〇
〇
〇
〇
〇
Coat
N30
〇
〇
〇
〇
〇
〇
〇
〇
〇
〇
〇
N56
〇
〇
〇
〇
〇
〇
〇
〇
〇
〇
〇
 
60/80
80/100
100/120
120/140
140/170
170/200
200/230
230/270
270/325
325/400
400/500
FRD-S
-
〇
〇
〇
〇
〇
〇
〇
〇
〇
〇
Coat
N30
-
〇
〇
〇
〇
〇
〇
〇
〇
〇
〇
N56
-
〇
〇
〇
〇
〇
〇
〇
〇
〇
〇
NS60
-
〇
〇
〇
〇
〇
〇
〇
〇
〇
〇
C50
-
〇
〇
〇
〇
〇
〇
〇
〇
〇
〇
synthetic diamond for Metal bond
 
60/80
80/100
100/120
120/140
140/170
170/200
200/230
230/270
270/325
325/400
400/500
FMD-10
〇
〇
〇
〇
〇
〇
〇
〇
〇
〇
〇
Coat
T2
〇
〇
〇
〇
〇
〇
〇
〇
〇
〇
〇
TN56
〇
〇
〇
〇
〇
〇
〇
〇
〇
〇
〇
 
60/80
80/100
100/120
120/140
140/170
170/200
200/230
230/270
270/325
325/400
400/500
FMD-20
〇
〇
〇
〇
〇
〇
〇
〇
〇
〇
〇
FMD-40
〇
〇
〇
〇
〇
〇
〇
〇
〇
〇
〇
FMD-60
〇
〇
〇
〇
〇
〇
〇
〇
〇
〇
〇
FMD-70
〇
〇
〇
〇
〇
〇
〇
〇
〇
〇
〇
FMD-80
〇
〇
〇
〇
〇
〇
〇
〇
〇
〇
〇
FMD-90
〇
〇
〇
〇
〇
〇
〇
〇
〇
〇
〇
Coat
T2
〇
〇
〇
〇
〇
〇
〇
〇
〇
〇
〇
TN56
〇
〇
〇
〇
〇
〇
〇
〇
〇
〇
〇
Other Product lineup